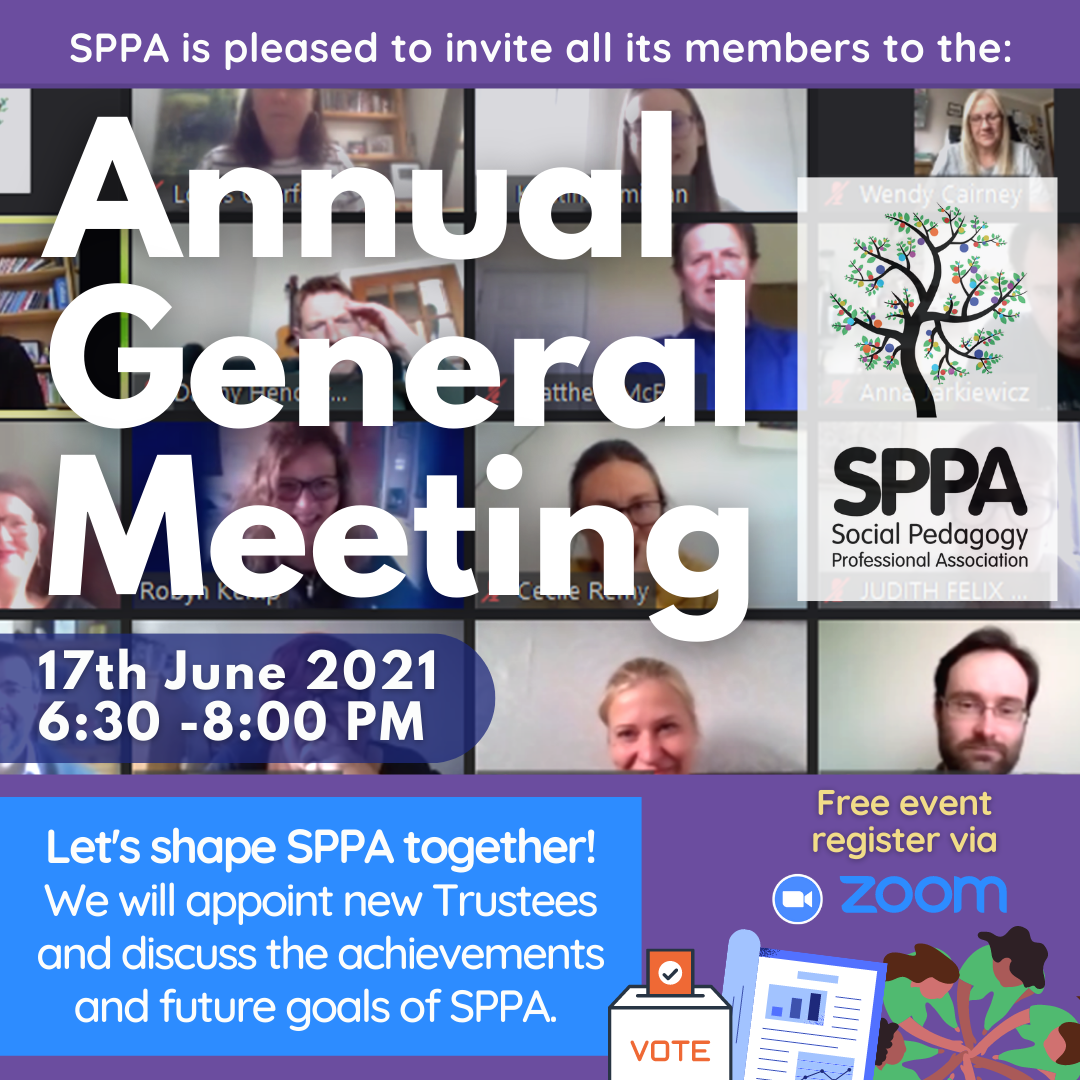 The Social Pedagogy Professional Association (SPPA) is pleased to invite you to this year's AGM, which for the first time will take place online on 17th June from 6:30 to 8:00 PM (London time)
Click here to register via Zoom
Come and join us at this year's AGM where we will talk about SPPA's journey. We want to share with you the achievements we've had, the challenges we have faced, and the aspects we are working on. Most of all, we want you to be part of the process of shaping and spreading the word of Social Pedagogy in the UK and Ireland.
Special Resolutions 
This year we will present three special resolutions to amend our articles of association. As you know, SPPA is a charity managed mainly by Trustees and supported by members, we believe that the changes proposed below could improve the overall management of SPPA and help us expand and grow stronger:
(1) To increase the number of Trustees from thirteen to fifteen, (2) to amend the numbers of Trustees that can be elected by ballot to ten and by the decision of current Trustees to five, and (3) to increase the years of automatic retirement and maximum term, from three to five.
Appointing new Trustees
This year we are also very excited because we will appoint 7 new Trustees! The candidates will introduce themselves at the AGM, so this will be a great opportunity to meet them and vote!
Annual Report
At the AGM we will share our annual report, which is available for you to read and download here. 
---
Don't miss this chance to reconnect with your SPPA family! Come and join us and help us shape the course of SPPA and Social Pedagogy!
LOOKING FORWARD TO SEEING ALL OF YOU AT THE AGM!
*Note: This event is open to members and non-members, but only SPPA members are allowed to vote.