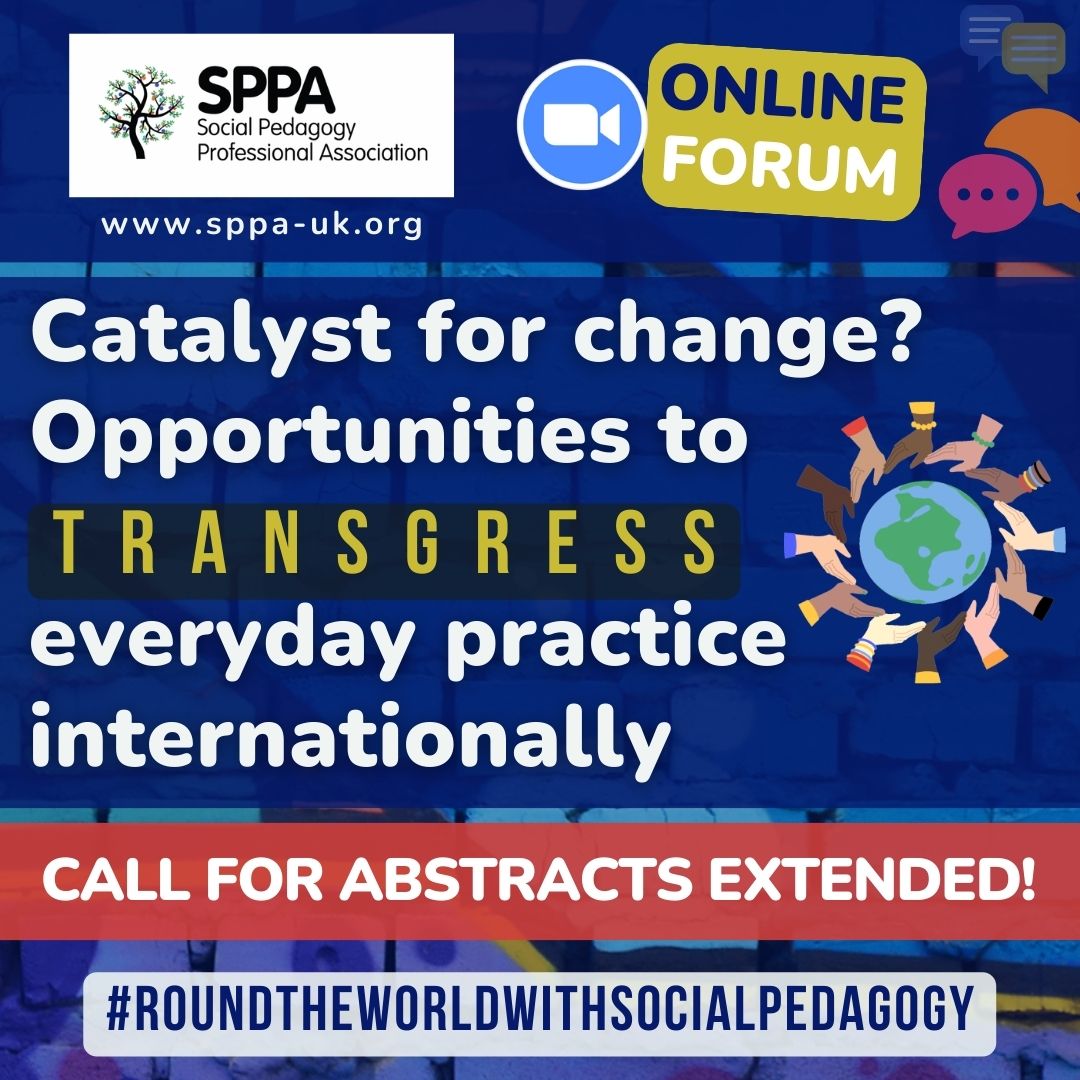 SPPA Online Forum 
A catalyst for change? Opportunities to transgress everyday practice internationally
Reflecting on the successful in-person conference we had in August 2023 and the many deep conversations and ideas that it triggered we realised that we could all benefit from mulling over this topic a bit longer. We decided to postpone this online event to March 2024. We will keep you posted and get back to you soon with more information about the date, time, prices and speakers.
Likewise, we want to reframe the online conference as an open online forum where everyone, regardless of their roles, titles or experience is welcome to contribute by presenting or attending.
The SPPA annual online forum is open to members and non-members. This will be a space for dialogue, open discussion and learning where we will gather to reflect, learn and propose different ways of transgressing together!
The deadline for submitting an abstract has been extended to the 30th of November 2023. 
We invite practitioners, students, pedagogues, artists, academics, policymakers and everyone interested in and/or passionate about social pedagogy from across a range of disciplines to submit an abstract. 
Particularly, we are keen to hear international perspectives and overseas projects or ideas. 
We also encourage those who attended our in-person conference to present. 
We have different ways of presenting, you could organise a workshop, give a lightning talk or a creative exhibition. 
---
About the topic for this year
What does it mean to transgress?
How can social pedagogy practitioners support each other, be brave enough and develop their internal sense of power to make steps towards developing a professional practice that is feminist and anti-racist, that supports others to also connect with their internal power? How can social pedagogy practitioners support each other to take risks and face uncertainty, against the status-quo?
At the face-to-face conference in August, we heard how researchers from Denmark, Brazil, Scotland and England used bell hooks' ideas around transgression to understand how social pedagogues work in their different national contexts. For the online forum, we want to reflect on their thinking and look at how this could benefit us as practitioners through creative and inclusive approaches. We'd love you to join us in doing this and bring your unique thoughts and experiences to the table.
Who is this conference for?
All those interested in a social pedagogic approach to delivering care, education and health services, ranging from practitioners to policy makers, students, academics, artists, poets, musicians and other creatives.
You might be working in early childhood education and care, family support, youth work, foster care, social work, in day care services for older people, mental health services or residential childcare. 
There is a place in social pedagogy for all of you! There is a place for transgression in all these areas, so we welcome your ideas!
---
Do you want to present at the SPPA online forum? Here's how to do it:
We have three ways to participate - let's transgress together!
1) Workshops - 45 minutes + 15 min Q&A 
Give a creative, interactive, experiential workshop from a social pedagogical perspective. Workshops should aim to both inform and actively involve participants. 
2. Lightning talks - 10 minutes 
Give a brief talk or share a story in a quick, insightful, and clear way. These talks and stories could include experiences from practice, provocations or insights into social pedagogical approaches and concepts. Each talk should last 10 minutes max. and will be followed by a 5-minute Q&A session.
3. Creative exhibition - max. 5 minutes 
Submit a still image, audio or video file (maximum running time of 5 minutes) for our gallery which SPPA will curate. The content will not be presented live by you. Instead, it will be shown during the day.
Guideline for abstract submission
Abstracts must show how your contribution relates to the online forum theme, specify your aim and provide a brief explanation of the workshop, lightning talk or creative exhibition. Abstracts should be a maximum of 250 words. 
Deadline EXTENDED: 30th November 2023
If you have any questions, please contact us at conference@sppa-uk.org.
Looking forward to hearing from you!
#RoundTheWorldWithSocialPedagogy
SPPA