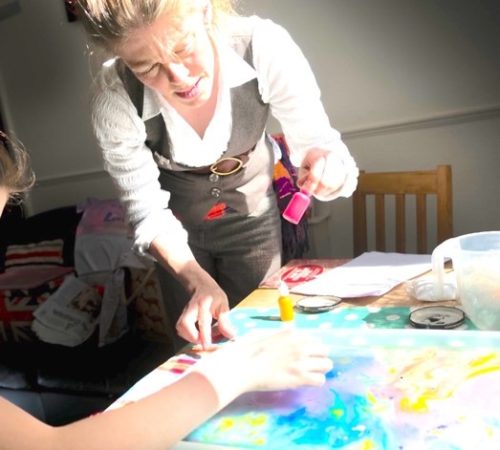 Claire Parker has worked as a Creative Mentor for DCC for 5 years. Claire is a Health Care Professional Council (HCPC) registered Art Psychotherapist, and has worked in a Manchester Primary school for 'Place2Be' (a national children's mental health charity), and for East Cheshire Hospice.
Claire runs workshops for schools in the High Peak, Derbyshire and has been Hadfield Nursery school's resident artist for over 10 yrs. A degree in 'working with children in the early years' ignited a special interest in trauma, loss and attachment in the early years that can impact later development. This has informed her work and commitment when working with older teenagers. Her early career as a scenic artist and prop maker for TV and theatre brings experience and expertise in the arts to her current role as Creative Mentor.
Claire believes that the creative process addresses issues around communication, social and emotional issues and builds resilience, confidence and self-esteem helping young people achieve their potential.