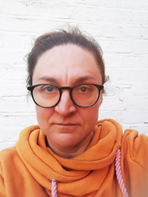 Cecile is a social pedagogue working with young people in care, and as such she is always interested in the interaction between learning processes and social change. She expands on this in a blog: https://www.mypedagogicalblog.com/
Cecile has experimented with forms of communal living -a very personal form of social pedagogy- and she is currently living in a housing co-operative in London. By living there, she is trying to create a different sense of community, to experience and work with the importance of group processes and to move away from individualistic thinking. Cecile carries some of those themes forward in her PhD, where she explores the attitudes and beliefs professionals working in children's homes have of the young people they work with.
Cecile is also a SPPA trustee, she joined the Board in July 2021 and has since then been actively engaged in all SPPA matters, showing her passion for social pedagogy at all times.